KEYPAD DOOR LOCKS DIGILOCK SERIES PROVIDE ENDLESS FEATURES
For businesses in the market for a keypad door lock that provides the ultimate security and state of the art design for employees and customers, the Digilock DK-SP and DK-ST series both offer valuable features. Whether you plan to use them for shared or assigned use depends on your business model and will factor into your decision making process.
Spas, gyms and country clubs often provide lockers to their guests as a customer service gesture and the Digilock system provides them with a user friendly system. Guests are able to enjoy a day of relaxation and exercise without having to worry about the safety of their personal belongings. The Digilock DK-SP and DK-ST also provide security to employees of retail establishments, restaurants and manufacturing industries.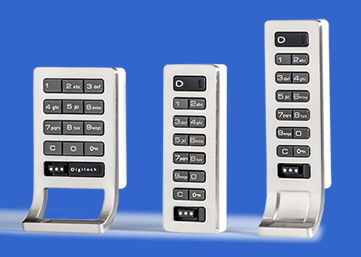 Lets take a look at the key features of each. How are they alike? How are they different? Which provide the best functionality for your specific needs?
DIGILOCK DK-SP AND DK-ST: SHARED FEATURES
Both the Digilock DK-SP and DK-SToffer users a sleek modern design with all metal lock housing. The DK-SP and DK-ST can be purchased with or without an integral pull handle. These digital locks may be positioned either vertically or horizontally.
Digilocks can be operated in shared use mode for gyms and spas. When locks are being used for employees, managers can program them for assigned use only. Other features include 3 levels of security (standard, advanced or high) and 3 ways to mount your locks (surface, recessed or offset).
DK-SP FEATURES:
IDEAL FOR ASSIGNED USE
LOCKS OPERATE WITH A UNIQUE AND SIMPLE 4 DIGIT CODE
MANAGE LOCKS WITH A PROGRAMMABLE KEY OR MANAGER'S BYPASS KEY SYSTEM
LOCK RE-LOCKS AUTOMATICALLY WHEN LOCKER DOOR IS CLOSED
NO WIRING REQUIRED. DIGITAL LOCKS WORK WITH TWO 9 VOLT BATTERIES
DK-ST FEATURES:
IDEAL FOR SHARED USE
USERS SELECT A UNIQUE 4 DIGIT CODE
LOCKER LOCK REMAINS UNLOCKED UNTIL ANOTHER 4 DIGIT CODE IS ENTERED
FLASHING RED LED LIGHT INDICATES LOCKER IN USE
LOCKS OUT AFTER 3 CONSECUTIVE ENTRIES OF INVALID CODE
LIKE THE DK-SP, IT WORKS WITH TWO 9 VOLT BATTERIES
Whatever your business model may be, the Digilock DK-SP and DK-ST both offer high security options wrapped in an attractive design. The manager's bypass key is an invaluable feature that enables managers to open the locker when a combination has been forgotten. The bypass key also allows managers to periodically inspect employee lockers to ensure that no illegal items are being housed inside them.
The Digilock DK-SP and DK-ST series of digital locker locks provide businesses with high end security. Which one best suits your business? We want to know.
PEOPLE WHO READ THIS ARTICLE ALSO READ